National Independent Adjusting Firm with Regional Expertise
Streamlined Claim Solutions
Technology Driven by Humans
Improve customer satisfaction and simplify your claims processing with our modern solutions driven by the latest technology.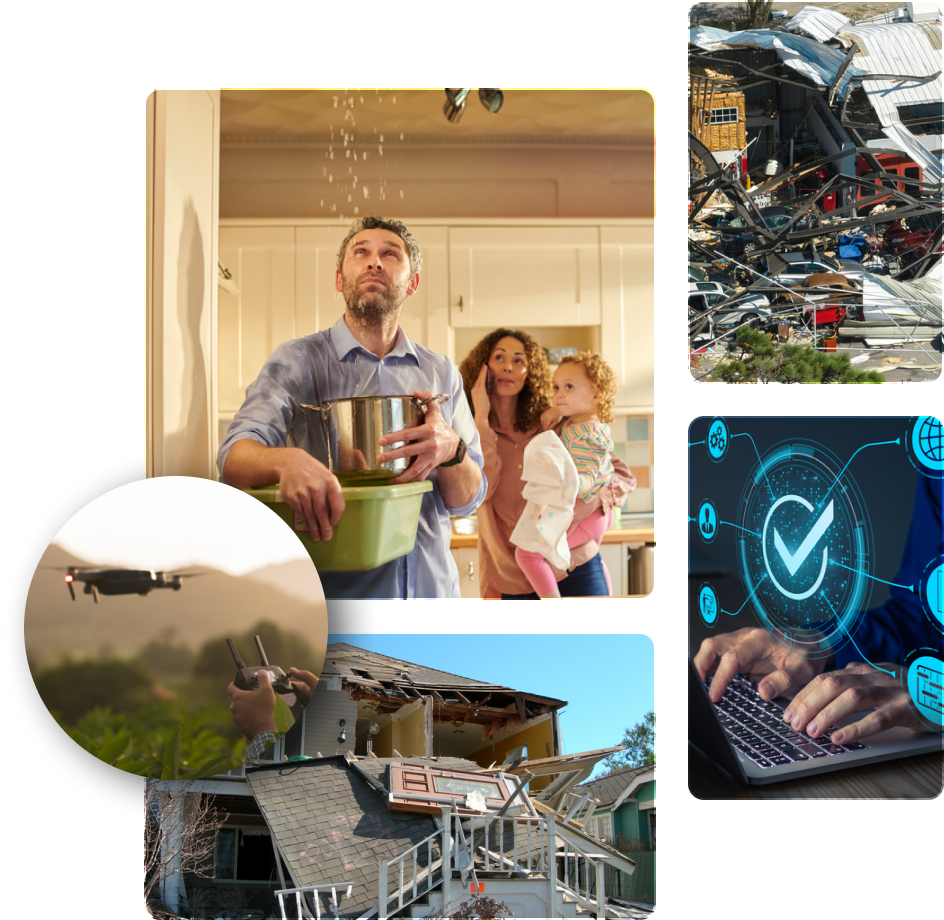 Daily Property Claims
We provide residential and commercial property adjusting services nationwide.
Catastrophe Claims
We strive for a superior customer experience. We're able to handle all perils quickly and with great care with 1,500+ fully vetted adjusters in our network.
Desk Adjusting
Less than 7-day lead time from inspection to return, and one day turnaround for QA review. Our team specializes in handling large loss, complex, and high net worth claims.
Virtual Adjusting
Full virtual or virtual hybrid adjusting service reduces loss adjustment expense (LAE) and is generally quicker and safer than traditional adjusting.
Field Adjusting
Our field team utilizes drones, iGuide, Matterport and A2A, contributing to expeditious and quality estimates.
Appraisals
Our team of seasoned Appraisers have an in-depth knowledge in construction and estimating processes that they apply when evaluating, investigating and negotiating award settlements.
We're exactly where you need us
With locations across the United States, we are well-positioned to provide high-quality claims administration and adjusting services.
Success Stories
Our Customers Love Us!
We have had the pleasure of working with Stephanie Walker and her team led by Jose Molina. We greatly appreciate the assistance and continual work relationship we have with the whole Evolv Team. I would recommend their Team to anyone who wants to work with professionalism and dedication.
I just wanted to send an email to THANK YOU for all the work you're doing in sending our payments so fast. We are quick to email for payments and to complain, but don't email you to let you know when you are all doing an amazing job! We appreciate you all!
I just wanted to express how impressed I am with Matt Heidinger and James Zeigler field reports, their work is thorough and consistent, and it is very much appreciated!
Mr. Vassalotti reached out to me to say how pleased he was with your professionalism and demeanor during his recent inspection. He said you made him feel very comfortable and confident in the claims process.
Larissa, I have to say, I enjoy running claims for Evolv. They always keep me busy in my area codes and I've never been paid faster by any other firm. I can always speak with any team member when need be too. Every department seems to be available when i need information. I absolutely love working for Evolv!
I don't know if the word got out, but Evolv Claims has the fastest turnaround time for paying invoices I've ever seen in the business. Sometimes less than five days from the time of submission.
Will and his team take care of their people for sure! There is straightforward company.
Working with Evolv you are not only a contractor you are part of a family. The management team is very easy to work with and provides 24/7 support. I have worked with many IA firms through the years and Evolv has surpassed my expectations. I can only say that I am privileged to be able to work with such an amazing group of people. Glad to be a part of the team/family and hope to continue my venture with Evolv.
Latest from the Blog
Breaking news shows Idalia rapidly increasing on its path to Florida, expected to strengthen […]
Come see Evolv at Inspection Fuel Ultra Booth 201 September 16-18, 2023-Orlando, FL Join […]
Come see Evolv at NAMIC's 128th Annual Convention! Booth 101 September 17-20, 2023- […]
Join a team that values your
skills and expertise
We are always looking for talented individuals to join our team. If you are interested in an opportunity with Evolv, partner with us!